New All-Party Parliamentary Group on Restorative Justice created
Published: Friday, May 28th, 2021
---
New All-Party Parliamentary Group on Restorative Justice
A blog by Lucy Jaffe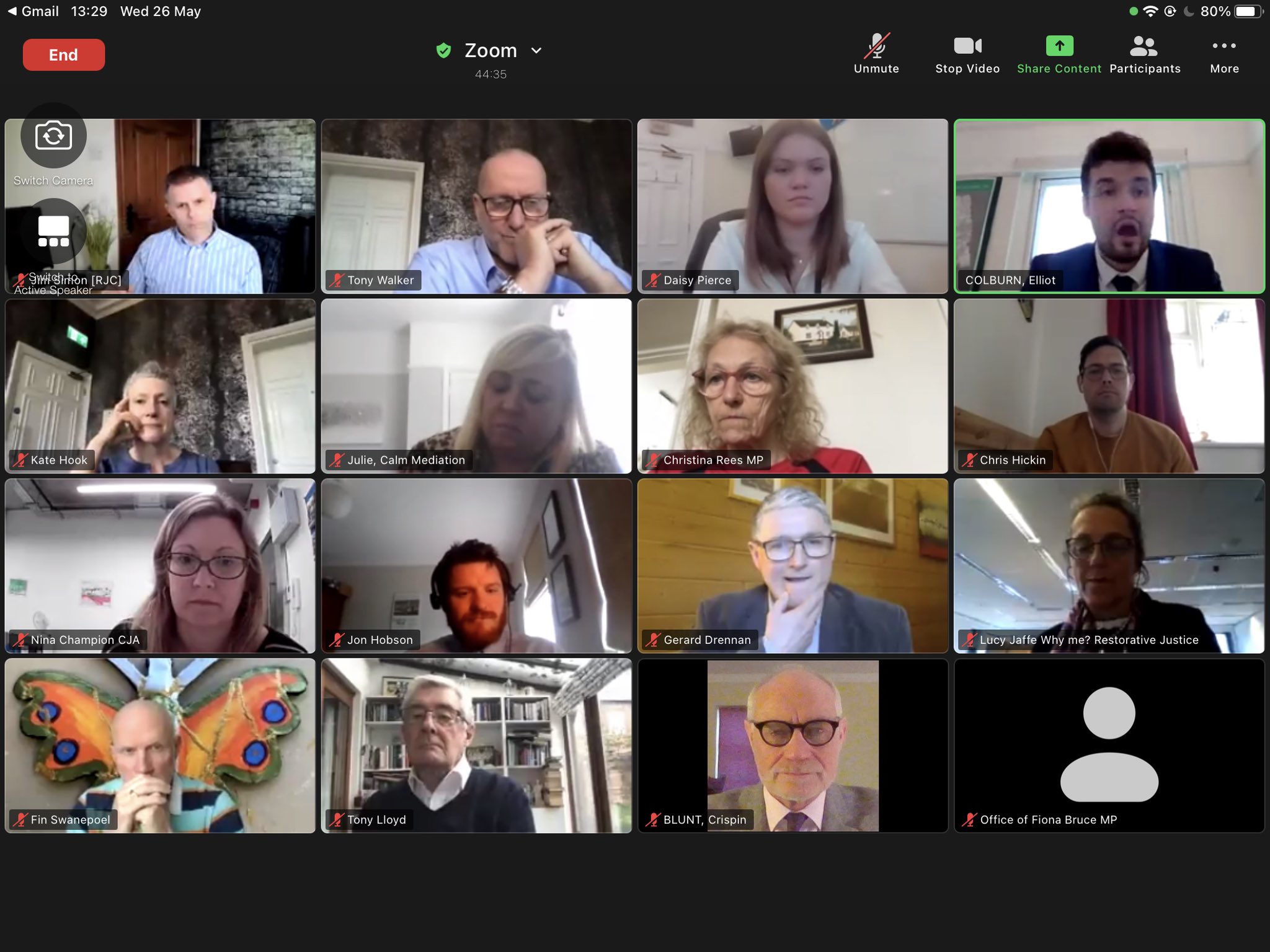 This week I observed the inaugural meeting of the new All-Party Parliamentary Group (APPG) on Restorative Justice. The formation of this cross-party lobby group at the heart of Parliament is a highly welcome initiative from Elliot Colburn, MP for Carshalton and Wallington. His constituents, long time Restorative Justice champions Ray and Vi Donovan, have done a great job in persuading him of the power and potential of Restorative Justice and the urgency of making it more widely available to UK citizens. Now the Group is established, the big question is what are they going to do with this great opportunity and how are they going to ensure that the sector's expertise is heard.
There are immediate ways that the APPG can make a difference, such as proposing amendments to the The Police, Courts, Sentencing and Crime Bill, which is currently at Committee Stage. There is also a prime opportunity for Colburn and APPG officers to talk to Ministers about the Victim Law announced (again) in the Queen's Speech. Being able to 'walk down the corridor' to meet Government Ministers and Parliamentary colleagues will certainly help to raise the profile of Restorative Justice, and strengthen existing entitlements.
The last Government Action Plan on Restorative Justice expired in March 2018 and was not renewed. Following their extensive RJ Inquiry in 2016, the Justice Committee strongly recommended that the Government produce an annual plan for how Restorative Justice can be embedded into the system, and how to get best value out of national investment. This is an area where the APPG can really drive change. 
There are other opportunities for the APPG to champion the use of restorative practice in public and private life, such as housing, education and communities, which many restorative organisations and practitioners are hard at work delivering across the country. This may not be legislative but policy-driven, persuading Government Departments to invest in new areas so people are equipped to work and live restoratively.
There are so many ways that this APPG can drive positive change. But I am concerned that its direction of travel will be influenced by a tiny minority of stakeholders, who do not represent the wealth of knowledge, expertise and personal experience about Restorative Justice across the country. An Advisory Group has been formed for the APPG, which will set the terms of reference for the planned enquiry from June-September 2021. This advisory group has a membership fee ranging from £3,000 to £15,000, money which is used to employ an agency called CalComms to run the group. Any model where organisations have to pay for access to the APPG will be a significant barrier to the right knowledge and expertise being heard, especially when the fees are so large. 
For more information about the APPG: you can follow them on Twitter @rjappg
The group is chaired by Elliot Colburn MP (Conservative), and the Vice Chair is Christina Rees MP (Labour)